Marvel 71×74 Anti-Hero Deadpool Shower Curtain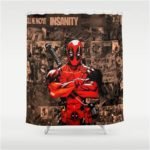 This artist designed FABRIC Deadpool shower curtain features Marvel's anti-hero standing guard in the superhero bathroom.
Once an international assassin, now turned anti-hero, Deadpool enjoys an accelerated healing factor, that not only prevents him from being permanently injured (through enhanced cell regeneration), but also causes psychosis and mental instability.
It is this psychosis that makes him an extremely unpredictable opponent and the guy you want on your side!
Deadpool Shower Curtain Design
The artist has overlaid a dimensional image of the Merc with the Mouth, Deadpool on a sepia style background of Marvel Deadpool comic book panels that serve to accentuate the character himself.
This FABRIC superhero shower curtain measures 71×74-inches and has a 12 button-hole style top with stitch-enforced eyelets for adding your favorite complementing shower curtain rings or hooks. For reference, a standard bathtub measures 60 inches wide, providing 11 inches for fabric draping.
Purchase includes the shower curtain only and does not include curtain rings, rod or liner.
Colors are in shades of reddish brown, black, gray, white and red providing a warm palette for adding coordinating superhero bathroom accessories.
To take full advantage of this unique, Deadpool design, you will want to keep the liner in your tub with the full curtain hanging out.
Marvel Deadpool Shower Curtain Care
Made from 100% polyester microfiber this fabric shower curtain should be machine washed in cold water and tumble dried on a low setting.
Avoid bleach, hot water and high heat dryer settings that can damage the fabric fiber and its water resistant properties.
The polyester fabric is naturally resistant to mildew and hard water deposits so it looks sharp longer.
Water "resistant", however, means it is not waterproof and will require a shower curtain liner provided by you.
American Made!
This is premium superhero home decor featuring Merc with the Mouth in an artist designed fabric shower curtain that is made-to-order in the USA and is not available in stores. You may only buy this online.
Each Deadpool fabric shower curtain is ready for shipping to the buyer in 5 business days or less.
Send this to an address in the USA and it will arrive within 2 to 8 days through the United States Postal Service.
International shipping is also available.
This same Deadpool design is available in other superhero home decor through the link below. Get this design as a throw blanket, pillow, phone case, wall clock and many other options.
You might also like: