Webtastic Ultimate Spiderman Bedding Twin Sheet Set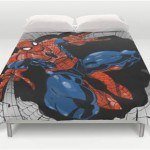 This 3-piece Spiderman bedding TWIN sheet set is ultimate tribute to one of  Spiderman's most distinguishing traits, his web shooters.
This colorful TWIN sheet set comes with one fitted bottom sheet, one flat top sheet and one reversible pillowcase that provides a different look on each side.
The bottom sheet will fit a standard twin sized mattress that measures 39-inches wide by 54-inches long. The set is made from a cotton rich blend of 60 percent cotton and 40 percent polyester.
Ripe with webs, this sheet set features Spiderman wearing the traditional red and blue Lycra and Spandex body suit worn throughout his Marvel comics career and featured in the Spiderman films.
It was Peter Parker's idea to feature a web pattern covering portions of the suit and starting at this mask as shown in the images on the sheets.
The iconic black spider symbol is shown in the center of his chest and he wears the mask with the black outlined lenses covering his eyes so no one can see in.
Did you know his mask design was used to muffle his voice making it unrecognizable to others and concealing his identity?
The fitted bottom sheet is on a background of a light blue and white wide checked pattern. Spiderman in his trademark red, white and blue colors is featured in action sequences.
The flat top sheet has a teal blue spider web background that showcases Spiderman in web-wielding sequences with the phrase "Next Generation Web Shooter" scattered as a web accented logo.
The pillowcases are red, white and blue, as the sheets, with a different Spiderman pose on each side.
Facts about this Ultimate Spiderman TWIN Sheet Set
This is officially licensed Marvel Comics Spiderman Merchandise
It is a 3-piece TWIN sheet set with one flat top sheet, one fitted bottom sheet and one pillowcase
The sheets will fit a TWIN sized mattress that measures 39-inches wide by 54-inches long
The pillowcase will fit a standard bed pillow measuring 20-inches wide by 26-inches long
Fabric in this set is a cotton rich blend of 60 percent cotton and 40 percent polyester
It is machine washable in cold water which will help keep colors brighter longer and reduce premature fading
If you need to use bleach it should only be a color-safe, non-chlorine bleach
The set can be tumble dried on low to medium heat and a warm iron can be used, if needed, to remove wrinkles
The color in this Spiderman sheet set will coordinate well with any striped or solid colored bed skirts, comforters, curtains, a lamp shade or other Spiderman merchandise to complete the look of a Spiderman-themed bedroom
This set has not been treated for flame resistance
It has been made outside the US and is imported
Prices for this Spiderman licensed bedding have been determined by the supplier and not this website
Prices WILL change based on merchandise availability and popularity
You might also like: