Batman Joker Psychopath Clown Quotes Bedding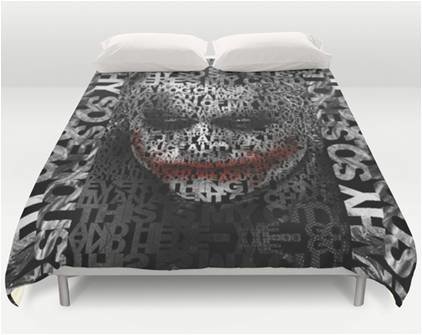 Available in FULL, QUEEN and KING size is this artist designed Batman bedding showcasing the infamous quotes of that psychopathic, mass murdering, schizophrenic clown — The Joker!
In the likeness of the Dark Knight's Heath Ledger, who was considered the most evil version of the Joker ever filmed and earned him an Academy Award for Best Supporting Actor, this design adds a dark element to any superhero bedroom.
The QUEEN size measures 88×88 inches, the KING size measures 104×88 inches and the FULL size measures 79×79 inches.
Batman Heath Ledger Joker Bedding
This featured QUEEN size Heath Ledger Joker bedding, is an expertly cut and hand sewn comforter cover with a hidden nylon zipper for easy removal when cleaning. Use this to wrap your own existing comforter in a dramatic new look!
The artist has surrounded and overlaid a three dimensional image of the dark, extreme sociopathic Heath Ledger as The Joker with Joker quotes made famous in The Dark Knight and beyond. His most famous quote "Why so serious?!" and "Let's put a smile on that face" are featured with other in this unique design depicting pure evil. Ledger's image is unmistakable with dark, piercing eyes and the sinister smear of red in psychopathic clown form.
Colors of red, white, black and gray blend to make this dramatic artisan design pop with detail and dimension.
The design is single-sided meaning this Gotham City criminal mastermind is showcased on one side of the zippered cover only — the reverse side a soft solid white.
COMFORTER COVER FABRIC
— Made from 100% Polyester Microfiber
— Stain, static, wrinkle and run resistant
— Will not fade when washed
— High thread count for superior strength
— Rich in color saturation
— Breathable material
COMFORTER COVER CARE
— Machine wash in COLD WATER only
— Use a mild detergent
— Do not use chlorine bleach
— Tumble dry on low to medium heat
— Touchup with low heat iron setting
— Avoid hot water and hot dryer settings
Made in the USA!
This Dark Knight Joker quotes bedding features an artisan design and is made-to-order in the USA. It is not available in stores and may only be purchased online.
Available in FULL, QUEEN or KING, your order is ready to ship in 5 business days or less.
Send your order to a USA address and it will arrive, via the United States Postal Service, within 2 to 8 days. International shipping is also available.
This same super villain Batman's Joker design is available in other superhero home decor through the link below.