Batman, Iron Man, Thor Superhero Trio Bedding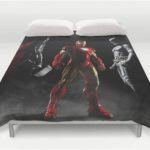 Available in FULL, QUEEN and KING size is this superhero trio bedding featuring Thor, Asgardian god of thunder, the Guardian of Gotham Batman and genius inventor Tony Stark as Iron Man.
Thor, Iron Man, Batman Bedding
This is a premium, artist designed comforter cover that features a hidden nylon zipper for easy removal when cleaning. The featured zippered cover measures 88-inches square and will fit a standard QUEEN size mattress. The FULL size measures 79-inches square (a full mattress is sized at 54×75 inches) and the KING size measures 104×88-inches.
This bedding, also referred to as a duvet cover, is cut and expertly hand sewn — it is a great way to wrap your own existing comforter in a dramatic new look.
The Batman, Iron Man, Thor design is single sided meaning this superhero trio is featured on one side of the comforter cover only. The reverse side is a soft, solid white.
The black and smoky gray background accentuates the colors of candy apple red, gold, white, silvery gray and bronze providing a warm to neutral color palette for coordinating with other superhero bedroom accessories.
Superhero Comforter Cover Fabric
This premium zippered cover is from 100 percent polyester microfiber fabric.
Microfiber is a special polyester fabric weave that lets it breathe much like cotton and cotton blend fabrics. Microfiber is a thinner fabric than cotton but has superior wear and color saturation.
It yields the benefits of being stain resistant, wrinkle resistant, static resistant and run resistant.
The high thread count of microfiber and a tight weave gives it a silky soft feel.
Zippered Comforter Cover Care
Microfiber bedding should be machine washed in COLD WATER only with a mild detergent.
Tumble dry on a low to medium heat setting or line dry.
Avoid the use of hot water, bleach and high heat dryer settings that may damage the fabric.
A low heat iron setting should be used for touchups.
Made in America
This is a premium zippered comforter cover featuring an artisan design of superheroes Batman, Thor and Iron Man. It is available to buy online only in FULL, QUEEN and KING sizes.
Each superhero bedding piece is made-to-order in the USA and is ready to ship to buyers in 3 to 5 business days.
Orders shipped to US addresses are sent via the US Mail and generally arrive within 2 to 8 days after shipping. International options are available.
This same superhero trio design is available in other home decor through the link below.
Pricing is based on the size superhero bedding or decor you select and has not been determined by our review site.