Catch a Cab with Anti-Hero Deadpool Taxi Bedding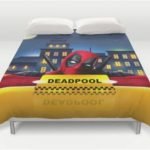 Wade Wilson, anti-hero is in the cab business on this artist designed Deadpool Taxi bedding available in FULL, QUEEN and KING sizes.
Some of the funniest scenes in 2016 20th Century Fox's Deadpool movie occurred with the exchanges between Dopinder, the Indian cab driver and his new friend — the twin sword toting man in a red spandex suit who wants him to kill a romantic rival for a girl named Gita.
Deadpool Taxi Bedding Design
Featured is a QUEEN size, premium comforter cover with an artisan design of Marvel character Deadpool. It is expertly cut and hand sewn with a hidden nylon zipper for easy removal when cleaning. Use this to wrap your own existing comforter in a colorful new look. Detailing is crisp and clean and colors vibrant for the superhero bedroom.
The QUEEN size measures 88×88 inches and will fit a standard queen mattress of 60×80 inches. It is also available in FULL size measuring 79×79 inches and in KING size measuring 104×88 inches.
This is a single sided design meaning Deadpool, leaning the roof of his metro cab against a moonlit city skyline, is showcased on one side of the bedding only. The reverse side is a soft solid white.
Colors are of red, white, blue, yellow and black providing all the primary colors for coordinating with other room accessories.
Marvel Deadpool Bedding Fabric and Care
This premium, zippered comforter cover is made from polyester microfiber fabric. This is a breathable polyester fabric weave that outperforms cotton and cotton blends in terms of strength, color saturation and useful life.
Microfiber fabric has a high thread count, will NOT fade when washed and provides the benefits of stain, static, wrinkle and run resistance.
This superhero bedding is COLD WATER wash only using a mild detergent. It may be tumble dried on a low to medium dryer heat setting. Avoid the use of bleach, hot water and high heat dryer settings.
How to Order
As artist designed superhero bedding, this Deadpool comforter cover is made to order in the USA and is not available in stores. You may only buy this online.
Orders, regardless of size, are ready for shipping to the buyer in 3 to 5 business days.
Send your order to a USA address and you can expect it to arrive within 2 to 8 days via the United States Postal Service.
This same Deadpool Taxi design is available in other superhero home decor through the link below.
Pricing is determined by the size bedding or Deadpool merchandise you select.