Big Marvel Avengers Green Hulk Pillow Buddy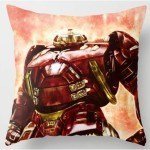 Fans of that  green skinned super powerful man-beast known as the Hulk from Marvel Comics "The Avengers" will delight in this plush pillow buddy from the Pillowtime Pals collection.
Your little Avengers fan can companion-up with "The Hulk", one of the most powerful beings in the Marvel Cinematic Universe.
The Hulk is known to have a nearly unlimited degree of strength, speed, durability and regenerative capabilities so this makes him the perfect companion to chase away any thoughts of evil-doers lurking at bedtime. He's also the perfect opponent in a match for any little wrestler!
Although the Hulk is around 9 feet in the Avengers film, this almost 24-inch menacing, yet unassuming huggable green hero, is a great take along companion — easy to hang onto for small hands.
The Hulk pillow buddy comes in bright green super soft fur-like fabric with milk chocolate colored pants complemented by his unusual, mean green eyes.
He is tightly stitched in patterns to accentuate his muscles, 6-pack abs and sheer power. His face reflects the enraged expression from where he draws is strength.
The Marvel Avengers green Hulk pillow buddy is constructed of a 100 percent polyester fabric shell with polyester fill for some serious play by your little crime fighter and for a durable long life.
Facts about this Green Hulk Avengers Pillow Buddy
The Hulk is officially licensed Marvel Comics Avengers merchandise
He measures about 23-inches in length from the top of the crew-cut hair on his head to the tip of his big green feet — a standard bed pillow is 26-inches long
Hulk's legs measure about 12-inches long
His legs are long enough that he can sit if using him as an accent pillow with an Avengers bedding set
His arms are about 10-inches long from just under his arm pit
Hulk's head is almost 4-inches in diameter and his well-muscled chest close to 5-inches wide
This green Hulk pillow buddy is made from a 100 percent polyester synthetic fiber designed to look like fur
The stuffing inside is 100 percent polyester as well
Seams are tightly stitched to accentuate detail and so they will stand up to some serious play
He is SPOT CLEAN ONLY and is not machine washable — while parent owners have indicated machine washing success it is not recommended by the manufacturer
This is made by Jay Franco and Sons who have made quality themed bedding for over 60 years
Prices for Marvel Avengers Hulk green pillow buddy are set by the supplier and not this website