Colorful 3×5 Artisan Avengers Bedroom Decor Area Rug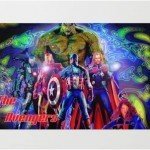 This large PREMIUM, artist designed Avengers area rug, gives you all your favorite Avengers superheros in a colorful artisan display that is the perfect complement to any Avenger's themed bedroom.
Enjoy Captain America, Thor, Iron Man, the Hulk and more on this super soft throw rug that will fit beautifully at the end or side of a TWIN or FULL sized bed and add eye-grabbing color and detail to the superhero bedroom.
This is a 3-foot by 5-foot size premium artisan rug crafted from high quality materials, in a subtle "Chevron" pattern that is made from 100% woven polyester.
It has an exceptionally soft feel to the touch and is highly durable for extended wear while being washable and very easy to maintain.
Brilliant shades of red, blue, green, ivory, black and gold this washable rug provides a wide range of colors to coordinate with any Avengers themed sheets, comforters, blankets, curtains or lampshades.
The artist's detailing is crisp and clean with all the popular characters from the 2102 movie produced by Marvel Studios and distributed by Walt Disney Studios and is signed by the artist.
This washable throw rug is also available in 2-foot by 3-foot and 4-foot by 6-foot sizes that will work with just about any available floor space. For pricing information on additional sizes, just click HERE or the link at the bottom of the review.
Avengers Bedroom Decor Area Rug Facts
This is a PREMIUM 3×5 foot Marvel Avengers area rug, the image artistically rendered and signed by the artist. The image reflects the artist's interpretation of these superheros assembled in colorful oil on water imagery.
It showcases favorites, Iron Man, Thor, Captain America, the Hulk, and Black Widow from the 2012 blockbuster film.
The colors are rich and vibrant in shades of red, turquoise, blue, green, yellow, black and ivory making it the perfect complement to any superhero themed bedroom.
This premium artisan area rug is made from very soft, woven polyester that is very easy to maintain.
Polyester fibers are dirt and stain resistant because dirt will settle around the fiber instead of being absorbed by them like wool or cotton. Simple vacuuming should remove most surface dust and dirt.
Spills can be easily blotted or carpet and rug cleaners that are safe for synthetic fibers can be used.
Polyester fiber rugs can also be machine washed on a gentle cycle in cold water. They should be air dried or tumble dried on low heat.
Non-skid pads, if required, are not included and should be purchased separately.
Because this is an artist designed washable throw rug, it is made to order and ships in just 3 to 5 business days.
Pricing has been determined by the supplier and not this website. Pricing will vary based on the size Marvel Avengers throw rug you choose.