Superheroine Wonder Woman Sherpa Fleece Throw Blanket
Celebrate the strong female role model with this Wonder Woman blanket available in 51×60 inch, 68×80 inch and 104×88 inch sizes — a perfect option in superheroine merchandise.
Wonder Woman stands for compassion, she is all about peace and love while being strong, sophisticated, independent and intellegent — in essence, the perfect woman.
This premium, artist designed Wonder Woman blanket showcases the red, blue and gold colors that are the core of Wonder Woman's costume.
Superheroine Wonder Woman Blanket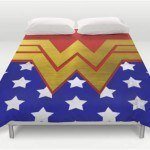 The featured Wonder Woman throw blanket measures 51-inches wide by 60-inches long providing great coverage for curling up on the couch, great for car travel, to wrap in on chilly nights, or to sit on at sporting events.
Also available in 68×80 inch and 104×88 inch sizes, it makes a colorful option and bold statement when used as an extra blanket on a QUEEN size or KING size bed.
The artist's stars and bars logo design is showcased on one side of this throw blanket only. The reverse side is a super soft solid white.
Colors are in patriotic shades of red, white, blue and gold.
Wonder Woman Throw Blanket Fabric and Care
Throw blanket fabric is made from a 100 percent polyester Sherpa fleece blend for superior softness. Sherpa fleece is thicker than polar fleece and has the nice "nubby" look — a little bit like a sheepskin, for a thicker feel and to better retain body heat.
This Wonder Woman merchandise is a COLD WATER wash item, using a mild detergent on a gentle cycle. This will help keep the Sherpa fleece looking great for long wear and will greatly minimize pilling and shedding.
Tumble dry on a low heat dryer setting and avoid hot water, a hot dryer, bleach and ironing as this can damage fabric fibers.
How to Order
As premium, artist designed, superheroine bedding, this Wonder Woman Sherpa fleece blanket is made-to-order in the USA and is not available in stores. You may only buy this online.
Available in 3 sizes, each order, regardless of size, is ready to ship to the buyer in 5 business days or less.
Send your order to a USA address and it will arrive, via the United States Postal Service, within 2 to 8 days.
International shipping options are available.
This same superheroine inspired design is available in other home decor items such as a comforter cover, throw pillow, shower curtain, wall clock and more through the link below.
You might also like: