Future Dynamic Duo Spider-Man Iron Man Comforter Cover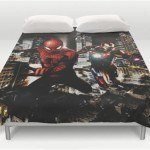 Marvel Comics Spiderman and Iron Man fly into action on this QUEEN, artist designed duvet cover that pairs these two superheroes high above a night cityscape.
It is rumored through Sony and reported by Cinema Blend, Latino Review and others sources that Spider-Man will cross into the same cinematic space as The Avengers — possibly appearing in Captain America: Civil War but more likely in the sequel Infinity War.
Iron Man is also rumored to cameo in the next solo Spider-Man movie and not necessarily as the best friend of Spidey.
The artist suggests what is yet to come on this comforter cover measuring 88-inches by 88-inches. This cover will fit a standard QUEEN mattress. A queen mattress measures 60-inches wide by 80-inches long so the drape on this duvet would be about 14-inches on each side of the bed.
Iron Man Spider-Man Bedding Look
This is a single sided design meaning the two superheroes are featured only on one side of the duvet cover with the reverse side being a soft, solid white.
Detailing is crisp and clean showcasing Spider-Man and Iron Man in shades of red, blue, gold, gray and white on a city skyline background of grays, yellows, browns, black, tan and ivory in a dimensional design.
This comforter cover has a concealed durable nylon zipper so the cover can be easily removed for cleaning.
It is meticulously hand sewn and made to the highest quality standard for a rich appearance and long useful wear.
Superhero Bedding Fabric
This unique bedding design is made from 100 percent polyester microfiber fabric.
Each microfiber fabric strand is thinner than a human hair resulting in an incredibly high thread count per square inch for a super soft feel. This also adds strength to the fabric.
This is a polyester fabric weave that also allows it to breathe as well as being static, stain and wrinkle resistant.
A duvet cover is a great way to give your own queen size, perhaps "tired" comforter, a fresh new look.
Duvet Cover Bedding Care
This superhero bedding is fully machine washable in cold water using a mild detergent.
Tumble dry on a low to medium heat setting but avoid a hot dryer as this can damage the fabric.
Bleaching is not recommended as bleach can yellow and degrade fabric fibers.
Virtually wrinkle-free right from the dryer, it does not need ironing but should you choose to touch it up, only the lowest heat setting should be used so the fabric does not get scorched.
Ordering Information and Options
This bedding is signed by the artist and is not available in any big box retailer. It is only available to buy online.
Colors are deep and rich and detailing is crisp and clean adding a new look to your bedroom or guest room.
As premium bedding, it is made to order in the USA and is ready to ship to buyers in just 3 to 5 business days.
It is also available as a FULL size comforter cover measuring 79-inches square or a KING size duvet cover measuring 104-inches by 88-inches through the link below.
Pricing will be based on the size bedding you select and not by this review site.
You might also like: