Vintage Superhero Comics Collage Shower Curtain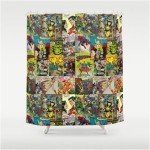 If you are looking something to read in the bathroom, consider this colorful vintage collage of comic book characters on this artisan superhero shower curtain.
Panels from favorite comics will add a bright splash of color to your bath with retro images of Batman, Thor, Wonder Woman, the Flash, Superman, Captain America, Wolverine and more.
This unique decor is a go-to solution for those wanting the perfect balance between edgy and playful that delivers an inviting display in individualized home decor.
Superhero Shower Curtain Look
The curtain measures 71-inches by 74-inches and features a 12 button-hole style top for easy hanging and insertion of your favorite color and type shower hook.
Find panel on panel of both DC Comics and Marvel Comics superheroes in a colorful display likely to include many of your favorite characters. See the Hulk, Daredevil and Green Lantern jockeying for position with Superman, Batman, Spiderman and the Flash.
There are plenty of speech bubbles to read, taking you back to a time when
Shades of orange, black, rust, deep red, turquoise, sandy beige, magenta, green, yellow, terracotta and teal provide a wide range colors for adding coordinating bathroom accessories like towels, rugs, and shower curtain rings.
Shower Curtain Fabric and Care
Made from 100% polyester, this Superhero comic shower curtain can be machine washed and tumble dried on a low setting for easy maintenance.
The fabric itself is resistant to mildew and hard water deposits.
As a premium feature, this polyester microfiber shower curtain is infused with a moisture repelling 3M technology that is stain and water resistant keeping the fabric looking newer, longer.
Water "resistant" means it is not waterproof and will require a liner provided by you.
Ordering Information and Options
This artist designed shower curtain is not available in any store and is only available for purchase online.
Each fabric curtain is made to order in the USA and available to ship to buyers in 3 to 5 business days.
International shipping options are available.
Pricing will be based on the superhero home decor you select and has not been determined by our review website.