Cool Black Batman Bat Logo Shower Curtain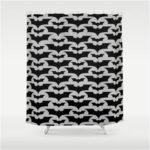 This artist designed black fabric Batman Bat Logo shower curtain features a repeat pattern of the Batman symbol — the iconic Bat featured prominently on his armor, illuminated in the dark sky of Gotham City and on the covers of the comics fans have been reading since 1939.
Black Batman Shower Curtain
The featured fabric Batman emblem curtain measures 71×74-inches and has a 12 buttonhole style top with high quality, stitch-enforced eyelets for adding your favorite complementing shower curtain rings or hooks.
Shower curtain hooks, shower rod and curtain liner are not included and should be purchased separately.
Colors are in simple, neutral shades of gray and black for coordinating with just about any color bathroom accessories.
To take full advantage of this iconic Bat Logo design, you will want to keep the liner in your tub with the full curtain hanging out of the tub.
Batman Shower Curtain Care
Made from 100% polyester microfiber this Batman bathroom decor should be machine washed in COLD WATER and tumble dried on a low setting for easy maintenance.
Avoid bleach, hot water and high heat dryer settings that can damage the fabric fiber and its water resistant properties.
The polyester fabric is naturally resistant to mildew and hard water deposits so it looks sharp longer.
Water "resistant", however, means it is not waterproof and will require a shower curtain liner provided by you.
Made in the USA
This is a premium, artist designed 71×74 inch fabric shower curtain featuring the Batman Logo in a repeat pattern design. (A standard bathrub measures 60 inches in length.)
Each microfiber fabric shower curtain is made-to-order in the USA and is not available in stores. You may only buy this online.
Orders are processed and ready for shipping to the buyer in 3 to 5 business days.
Send you order to a USA address and it will arrive within 2 to 8 days via the United States Postal Service.
This same Bat Logo design is available on other Batman themed superhero decor through the link below.
Pricing is determined by the size and type Batman home decor you select.