Queen Batman Meets Van Gogh Duvet Cover Bedding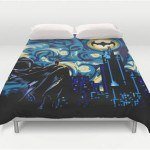 This QUEEN size, premium Batman duvet cover is what you get when an artist combines Vincent Van Gogh's The Starry Night with DC Comics The Dark Knight.
Batman fans with an eye for design and an appreciation for fine art will love the marriage of these two classics in this artisan Batman bedding design with crisp, clean detailing and bright vibrant colors.
The Dutch post-impressionist painter, Van Gogh painted The Starry Night in June of 1889 and it is estimated to be worth in excess of $100,000,000.00.
Batman, on the other hand, made his debut some 50 years later in DC Comics, May of 1939, and joining the Justice League of America in 1960. In comparison, Batman movie franchise, worldwide, is estimated to be worth $3,700,015,587.00.
This QUEEN comforter cover is beautifully detailed in shades of blue, yellow, ivory, rust, gray and black making it the perfect array of colors for adding coordinating Batman bedroom decor.
Signed by the artist, this duvet comforter cover is hand sewn and meticulously crafted coming with a durable hidden zipper that makes it easy to wrap and conceal an existing comforter or duvet insert, as well as remove it for cleaning.
A duvet cover can open up many design possibilities catering to all fans with the larger mattress sizes and you can wrap an existing, perhaps "tired" comforter in a new, fresh design.
This Batman comforter cover measures 88-inches square and will fit a standard QUEEN size mattress measuring 60-inches wide by 80-inches long. The drape on this cover would be 14-inches on each side.
Fabric is 100 percent polyester microfiber. Microfiber is a super soft polyester fabric weave that resists wrinkles, static, stains and fabric runs. It is also a non-slip fabric and will hold a comforter or insert well without sliding.
Batman Van Gogh Style Duvet Cover Facts
This is a signed artist's interpretation of DC Comics Batman and Gotham City combined with Vincent Van Gogh's infamous work "The Starry Night" in a PREMIUM queen size duvet cover.
It is made in the USA and measures 88-inches by 88-inches fitting a standard QUEEN size mattress measuring 60-inches wide by 80-inches long.
Colors in shades of blue, black, rust, ivory, yellow and gray on one side work well together when coordinating with any number of superhero themed bedroom accessories. The reverse side of this queen Batman bedding is a solid soft white.
It is expertly hand sewn, and made from 100 percent polyester microfiber. Microfiber is stain, static and wrinkle resistant and because this is a special fabric weave, it is also breathable. The fabric is non-slip for holding an insert in place.
The concealed zipper makes wrapping an existing comforter or duvet easy as well as removing it for care and cleaning.
Machine wash this in cold water and tumble dry on a low to medium heat setting. Bleaching should be avoided.
Avoid high heat dryer settings with microfiber as this may damage the fabric.
This Batman bedding is also available in FULL and KING sizes. The FULL size measures 79-inches square and the KING size measures 104-inches by 88-inches.
Pricing has been determined by the supplier and not this review website. Pricing will vary depending on the size you choose.