Batman Heath Ledger Super Villain Joker Bedding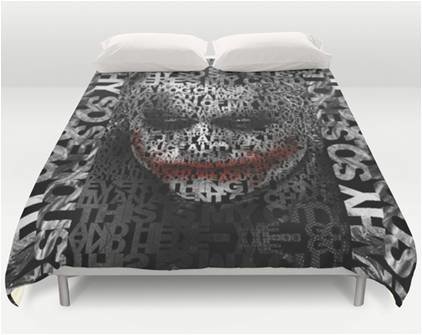 Supervillain, "The Joker" played by Heath Ledger in The Dark Knight comes to life on this Batman character bedding in a colorful watercolor artisan design.
Heath Ledger did the Clown Prince of Crime proud in his protrayal of the incredibly calculating, virtual genius who was continuously planning diabolical criminal activities while managing to stay one step ahead of Batman.
Available in FULL, QUEEN and KING sizes, add this calculating character to the superhero or supervillian bedroom.
The featured bedding measures 88-inches square and will fit a standard QUEEN mattress of 60×80 inches. It is also available in FULL size measuring 79-inches square and in KING size measuring 104×88 inches.
The Joker Super Villain Bedding Design
This premium, artist watercolor designed bedding is an expertly cut and hand sewn comforter cover including a concealed nylon zipper for easy removal when cleaning. Use this to cover your own existing comforter in a dramatic new look.
The watery colors of purple, green and blue reflect the custom tailored suit The Joker wore in The Dark Knight. The artist, using red, white and black shades draws attention to the white makeup Joker always wore with the blackened eyes and a red smear over his mouth covering his scars.
A brilliant white background highlights the red, green, blue, purple, gray, peach, teal and ivory shades providing an opportunity for adding coordinating supervillain themed accessories.
This design is single sided meaning Heath Ledger's Joker is showcased on one side only. The reverse side is a soft shade of solid white.
Batman Joker Bedding Fabric
This super villian bedding is made from 100 percent polyester microfiber fabric.
Microfiber is a special fabric weave that lets it breathe like cotton and cotton blend fabrics. While thinner than cotton, it is superior in performance, rich in color saturation and will not fade when washed.
This fabric also offers the benefits of being low maintenance as it is static, stain, run and wrinkle resistant.
Super Villain Bedding Care
This Joker microfiber comforter cover should be machine washed in cold water with a mild detergent.
Tumble dry on a low to medium heat setting only.
Avoid hot water, high heat dryer settings and bleach that may damage the fabric.
Use a low heat iron setting for any wrinkle touchups.
American Made
This artisan watercolor designed Batman Joker themed bedding is made-to-order in the USA and is not available in stores. You may only buy this online.
Available in FULL, QUEEN and KING size, this bedding is ready to ship to buyers within 3 to 5 days of ordering.
Send this bedding to a US address and it will arrive, via the United States Postal Service, within 2 to 8 days.
International shipping options are also available.
This same Heath Ledger Joker design is available in other home decor through the link below.
Pricing is determined by the size bedding or merchandise you select.