Bat Signal Light Meets Starry Night on Batman Bedding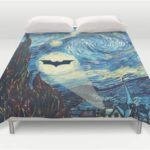 Available in FULL, QUEEN and KING size is this artist designed Batman bedding option that features the Bat-Signal shining brightly against the sky of a Vincent Van Gogh "The Starry Night" inspired 1889 painting.
Used as a means of contacting Batman by Commissioner Gordon, the Bat-Signal projection lamp, illuminating the Batman logo skyward was originally placed on the roof of the Gotham City Police Department.
Bat-Signal Batman Bedding Design
Measuring 88-inches square and fitting a standard QUEEN size mattress is this featured expertly crafted Batman themed comforter cover with a hidden nylon zipper.
It is also available in FULL size measuring 79-inches square and in KING size measuring 104×88-inches — providing several options for the Batman or superhero bedroom or guest room.
A zippered comforter cover, also known as a duvet cover, is a great way to wrap your existing comforter in a dramatic new look. It not only adds a splash of color to the bedroom but is an inexpensive way to redecorate.
This Van Gogh Bat-Signal design is featured on one side of the bedding only with the reverse side being a soft white color.
Bat Signal Light Comforter Cover Fabric
This artisan Batman bedding is made from 100 percent polyester microfiber fabric.
A special polyester fabric weave, Microfiber fabric breathes much like cotton.
This fabric has a thinner feel than cotton but is superior in performance and color saturation.
It is stain, static, wrinkle, run and fade resistant and will not "pill".
Microfiber material also has a high thread count giving it superior strength and a silky soft feel.
Zippered Comforter Cover Care
Microfiber bedding should be machine washed in COLD WATER only with a mild detergent.
Tumble dry on a low to medium heat setting or line dry.
Use a low heat iron setting for any touch-ups.
Avoid the use of hot water, bleach and high heat dryer settings that may damage the fabric.
Made in the USA
This Batman themed bedding features an artist designed image illustrating the Bat-Signal against a sky inspired by the Vincent Van Gogh painting "The Starry Night". Detailing is crisp and clean. As an artisan design, this bedding is not available in stores and may only be purchased online.
Available in Full, Queen and King size, as noted above, each zippered comforter cover is made-to-order in the USA and is ready to ship to the buyer in about 4 business days.
If your order is sent to a US address, you may expect it to arrive within 2 to 8 days via the US Mail.
This same artisan design is available in other Batman home decor through the link below.
Our SuperheroSheets.com review site does not determine pricing — it is based on the size Batman bedding or merchandise you select.