4-Piece Superman Full Size Bed Sheets Set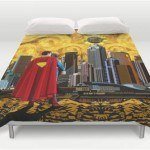 Fans of Warner Bros. and Legendary Pictures "Man of Steel" movie will love this 4-piece set of full size Superman bed sheets. The "Man of Steel" superman logo blazes from the flat top sheet, bottom fitted sheet and one of two pillowcases.
The second pillowcase, in this 4-piece Superman sheet set, features Henry Cavill in his original DC Comic role of Clark Kent. This is the "Man of Steel", on a journey of discovery to learn who he really is — all the while battling the renegade megalomaniac General Zod from another world.
These Superman Bed Sheets include 2 pillowcases that will fit a standard size bed pillow measuring 2o-inches by 26-inches. One Superman fitted bottom sheet and one flat top sheet. The colors in this full size sheet set are a rich candy apple red in the Superman logo and the hemmed ends of the pillowcases.
The background color on all four pieces are varying shades of royal blue. The sheets have "Superman" scattered in a darker yellow more as a statement than the single word. There are accents of lighter blues on the flat and fitted sheets to coordinate with the light blue defining details on Superman's costume.
Colors are rich and vibrant and the details are clear and crisp.
Facts about these Superman Man of Steel Bed Sheets
This is a 4-Piece Man of Steel sheet set only. There is no comforter, shams or bed skirt included
It is licensed DC Comic and Warner Bros. Superman movie merchandise that is made outside the US and imported
Superman sheets will fit a FULL size mattress measuring 54-inches by 75-inches
The drape of the flat top sheet, on a standard FULL bed would be 13-1/2 inches each side
This Superman set is made from 100 percent polyester microfiber
All 4-pieces of these Man of Steel bed sheets set are machine washable in COLD water and can be dried on low to medium heat
Cold water washing will preserve colors and fabric life
Only non-chlorine bleach should be used, if needed
Polyester microfiber fabric is stain resistant, wrinkle resistant, and resists the "pilling" found in some other fabric blends
Because this is a polyester material, it should not be ironed with a HOT iron or exposed to extreme heat as this can degrade the fabric
This FULL sheet set has not been treated for flame resistance
Prices for this DC Comics Man of Steel collection are set by the supplier and not this website
Prices will vary based on availability and popularity of the merchandise
These Superman FULL bed sheets are currently deeply discounted over manufacturer's suggested retail price