4-Piece Full Avengers Earths Mightiest Superhero Sheet Set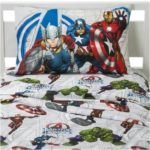 Earth's Mightiest Heroes are featured on this 4-piece FULL size Avengers cotton-rich sheet set for fans of the Marvel Comics organization S.H.I.E.L.D. (Strategic Homeland Intervention, Enforcement, and Logistics Division).
This FULL size set includes one (1) fitted bottom sheet, one (1) flat top sheet and two (2) standard size pillowcases.
The full size set will fit a standard full mattress measuring approximately 54 inches wide by 75 inches long.
Avengers Earth's Mightiest Sheet Set Design
This four (4) piece set is made from a blend of 60 percent cotton and 40 percent polyester.
The flat top sheet and fitted bottom sheet feature same design with the Avengers logo and name in a stencil-style gray design on a white background.
Overlaid on the Avengers logo are images of The Hulk, Iron Man, Captain America and Thor in action sequences in full rich colors. Each of the character designs represent the Marvel Comic Book characters and are not likenesses of the Marvel Studios movie characters.
The pillowcases feature Thor, Captain America and Iron Man over an Avengers logo on one side and the reverse side is the Avengers logo with the phrase "Earth's Mightiest Heroes".
Avengers Full Size Sheets Set Care
This four (4) piece superhero sheets set is fully machine washable in warm or cold water using a mild detergent.
Because this sheet set has color screening and is a blend of 60 percent cotton and 40 percent polyester, they may feel a little stiff until washed a few times. However, your little superhero in their PJs is not likely to notice.
The set may be tumble dried on low to medium heat.
The polyester content will add wrinkle resistant qualities to the set.
The use of bleach, hot water and high heat dryer settings will lead to color fading and may damage the useful life of the set.
A low heat iron setting should be used if touchups are desired.