Original Justice League Members Superhero Area Rug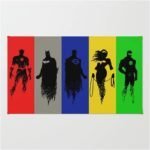 Superheroes in silhouette are showcased on this Justice League rug featuring artist designed images of Batman, Superman, The Flash, Wonder Woman and the Green Lantern.
This premium superhero decor is available in 2×3 foot, 3×5 foot and 4×6 foots sizes providing options for filling the open floor space of any superhero fan.
Justice League Rug Design
This featured original Justice League Members 3×5 foot rug is made from 100 percent woven polyester fibers for high durability and long wear.
It is a dense, short cut pile rug that serves to accentuate the detail in the design — is warm under the feet and wears extremely well.
The artist has incorporated digital silhouettes in black over colors often associated with the superhero featured — a red panel for The Flash, a gray panel for Batman, a blue panel for Superman, a golden yellow shade for Wonder Woman and a green panel for the Green Lantern.
Rug fibers in this design are cut with a slight "chevron" pattern adding to its rich appearance.
Superhero Area Rug Care
As a cut pile, polyester rug, fibers are dirt and stain resistant because dirt will settle around the fiber instead of being absorbed by them like wool or cotton. Simple vacuuming should remove most surface dust and dirt.
Spills can be easily blotted or carpet and rug cleaners that are safe for synthetic fibers can be used.
Polyester fiber rugs may also be machine washed on a gentle cycle in cold water. They should be air dried or tumble dried on low heat.
Made in the USA
This is a premium, artist designed superhero area rug featuring silhouettes of some of the original Justice League Members that is not available in stores. It may only be purchased online.
Each rug, whether 2×3, 3×5 or 4×6 foot, is made-to-order in the USA and is ready to ship to buyers in about 4 business days.
Orders that are shipped to US addresses will arrive within 2 to 8 days via the United States Postal Service. International shipping options are available.
This same design is also available in other superhero themed decor through the link below.
Pricing is not determined by our SuperheroSheets.com review site and will be based on the size rug or merchandise you select.