Green Geometric Pattern Avengers Bedroom Area Rug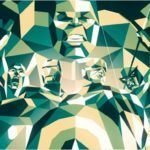 Favorite Avengers superheroes are hiding in plain sight on this green, geometric design Avengers superhero area rug. Bold geometric patterns add eye-catching energy to a room and just a little of these unique abstract designs can make a big impact to your decor.
Available in 2×3 foot, 3×5 foot and 4×6 foot sizes, Captain America, the Hulk, Iron Man, Thor and Hawkeye can be a great addition to the open floor space in an Avengers bedroom as well as a game room, office, man cave or guest room.
Geometric Avengers Rug Design
This green geometric pattern 3×5 foot area rug is made from 100 percent woven polyester fibers for high durability and long wear.
The Avengers rug is a dense, short cut pile that serves to accentuate the detail in the abstract design. The rug is warm under the feet and can handle some serious foot traffic.
Rug fibers in this design are cut with a slight "chevron" pattern adding to its rich appearance.
Geometric patterns reveal an angry Hulk in the background with Thor, Iron Man, Captain America and Hawkeye in the foreground. Thor is wielding his mighty hammer, Iron Man is poised with his hand repulsor, Cap has his shield and Haweye his precision bow and arrow.
Colors are in shades of green, teal, beige, gray and white in a warm palette for coordinating with other superhero accessories.
Green Superhero Area Rug Care
Rug fibers are dirt and stain resistant in this short cut pile because dirt will settle around the fiber instead of being absorbed by them like wool or cotton. Simple vacuuming will remove most surface dust and dirt.
Spills can be easily blotted or carpet and rug cleaners that are safe for synthetic fibers may be used.
This Avengers area rug may also be machine washed on a gentle cycle in cold water. It should be air dried or tumble dried on low heat.
American Made!
This is a superhero rug with an artist's design featuring a geometric pattern of five of the Avengers that is made-to-order and not available in stores.
Each USA made area rug, regardless of size, is ready to ship to the buyer in 5 business days or less.
If you send your order to a US address it will arrive within 2 to 8 days from the United States Postal Service.
This same geometric Avengers design is available in other superhero decor through the link below.
Pricing is determined by the size area rug or merchandise you select.