Awesome Black 3×5 Jarvis Iron Man Area Throw Rug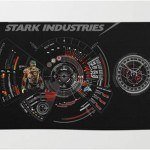 Taking you into the mind of Iron Man, this PREMIUM 3×5 artist designed throw rug represents "Jarvis" (Just A Rather Very Intelligent System), Tony Stark's creation at Stark Industries.
J.A.R.V.I.S. is the highly intelligent computer A.I. (artificial intelligence) developed by Tony Stark in the Marvel Iron Man series films, the Avengers and from the comics character of the same name.
Acting like Tony's best friend, Jarvis manages just about everything related to technology in his life including Tony's personal life, and especially in secret matters.
Jarvis uses all the technology around him, provided he is connected with it, and appears not only in holograms but also in Tony's Iron Man suits. In the holograms he appears with waves of DNA surrounding his core membrane.
This artisan rug takes you inside the mask of an Iron Man suit. On a deep black background, are holograms in coordinating shades of bright red, white, gray, yellow and blue for a digital feel.
This is a 3-foot by 5-foot size premium artisan rug crafted from high quality materials and made from 100% woven polyester that boasts an exceptionally soft touch and high durability for wear with easy maintenance. It also displays a very subtle "chevron" pattern.
Richly detailed in striking shades of red, white, gray, orange, yellow and blue on a midnight black background, this adds a touch of digital design to the bedroom, office or play room of any superhero or Iron Man fan.
This Iron Man Jarvis rug is also available in 2-foot by 3-foot and 4-foot by 6-foot sizes that will work with just about any available floor space.
For pricing information on additional sizes, just click HERE or the link at the bottom of the review.
Jarvis Iron Man A.I. Area Rug Facts
This is a PREMIUM artist designed area rug measuring 3-feet by 5-feet. The design reflects the artist's interpretation of the artificial intelligence J.A.R.V.I.S. created by Tony Stark at Stark Industries.
The colors are vivid and stand out on a dark black background and detailing is crisp and clean making this throw rug the perfect complement to any superhero themed bedroom.
This PREMIUM Iron Man area rug is made from very soft, woven polyester that is very easy to maintain.
Polyester fibers are dirt and stain resistant because dirt will settle around the fiber instead of being absorbed by them like wool or cotton. Simple vacuuming should remove most surface dust and dirt.
Spills can be easily blotted or carpet and rug cleaners that are safe for synthetic fibers can be used.
Polyester fiber rugs can also be machine washed on a gentle cycle in cold water. They should be air dried or tumble dried on low heat.
Non-skid pads, if required, are not included and should be purchased separately.
Because this is an artisan rug not found in any big box retailer, it is made to order and will ship in just 3 to 5 business days.
Pricing has been determined by the supplier and not this website.
Pricing will vary based on the size Jarvis Iron Man throw rug you choose.
You might also like: