Black Batman Logo Textured Design Shower Curtain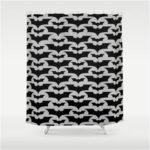 Bold and black is this premium Batman logo shower curtain making a dramatic statement in the bathroom of any Batman fan.
One of the most iconic and recognizable superhero symbols in pop culture is the Batman logo — and unlike other superhero emblems, it has a purpose besides decorating the Batsuit — the Batman logo's vital function is to alert Batman that it is time for action when the logo, in the form of a Bat-Signal, shines on the skies above Gotham City.
There have been many different versions of the Batman logo and all are symbolized by a bat. The bat-style logo was made strong and threatening in an effort to minimize the crime rate in Gotham City.
Unique and innovative in all its designs, the black bat with spread wings depicts the bravery and heroism of the superhero who wears it.
Batman Logo Shower Curtain Design
The curtain measures 71-inches by 74-inches and features a 12 button-hole style top for easy hanging and insertion of your favorite color and type shower hook.
In a multi-media design, the artist has made the Batman logo the centerpiece and focal point of the shower curtain. Bold in its design, the Batman emblem appears to be embossed on a diagonal striped black fabric background while the logo itself is clean and crisp in its detailing
Colors are simply black, gray and yellow providing an almost neutral color palette for adding coordinating bathroom accessories.
Batman Shower Curtain Fabric and Care
Made from 100% polyester microfiber, this striking superhero shower curtain can easily be machine washed and tumble dried on a low setting. Avoid hot washer and dryer settings as this can shorten the useful life of this shower curtain.
The microfiber fabric itself is naturally resistant to mildew and hard water deposits.
As premium Batman decor, this microfiber shower curtain is infused with a moisture repelling 3M technology that is stain and water resistant keeping the fabric looking newer, longer.
This shower curtain is not waterproof but is water resistant — it will still require a liner provided by you. We have bundled a high quality liner with clear shower curtain rings below for your convenience.
Helpful Ordering Information
This premium Batman bath curtain is not available in any store and is only available to buy online.
As premium Batman decor, each fabric shower curtain is made to order in the USA and available to ship to buyers in 3 to 5 business days.
International shipping options are available.
This same Batman logo fabric print is also available in other Batman decor through the link below.
Pricing will be based on the Batman merchandise you select and has not been determined by our review website.
Batman Shower Curtain Bundle
You might also like: